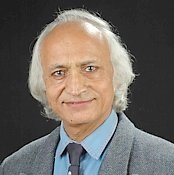 Prof. B.M. Jain
Professor B.M. Jain is a former senior professor of political science and international relations at South Asia Studies Centre, University of Rajasthan, India. He has been:
Visiting Professor at the University of British Columbia ,Okanagan(Canada).
Visiting Professor, Cleveland State University (Ohio).
Visiting Professor at State University of New York, Binghamton, NY.
Visiting Professor, UNESCO Chair for Peace, Jaume1 University, Spain.
Visiting Fellow, University of Hong Kong.
Summer Visiting Scholar, University of Pennsylvania, Philadelphia.
Visiting Scholar, Henry L. Stimson Centre(Washington, D.C).
Visiting Fellow, Institute for Far Eastern Studies, Seoul.
Currently, Prof. Jain is Visiting Scholar at Thompson Rivers University, British Columbia.
Prof. Jain has authored/edited over twenty books. His books include:
The Geopsychology Theory of International Relations in the 21st Century: Escaping the Ignorance Trap(Lexington Books, Lanham, MD, 2021).
South Asia Conundrum: The Great Power Gamble(Lexington Books/Rowman and Littlefield,2019).
China's Soft Power Diplomacy in South Asia: Myth or Reality?( Lexington Books: Lanham, MD,USA, 2017)
India-US Relations in the Age of Uncertainty(London and New York: Routledge , 2016)
Global Power : India's Foreign Policy( Lexington Books, 2008 and 2010); India in the New South Asia(I.B. Tauris, London, 2010 and 2011).